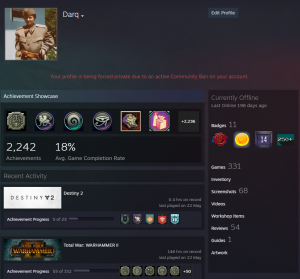 I'll tell you what. That you can be banned for speaking your mind from Steam after 14 years of being a customer. That is a 1 year ban. In COVID19 times.
Steam has not only power-tripping moderators, but also a hostile customer policy.
I will of course not spend any money on that platform anymore, ever.
Steam is also a monopoly and you don't buy games on Steam, as you're not able to sell them.
If I could I would've sold all the games that are associated with my account on that platform.
If we have laws that those laws apply everywhere, not "everywhere except Steam".
If you can have your right to express your mind taken away by a non-government organization then that organization is in violation of that law and should be prosecuted.